Had a great time yesterday at Independence Park running with Roma in the Paws in the Park 5K. It was a special treat for her, considering she was supposed to be recovering this weekend. (Her surgery was rescheduled for next week...)
We did well, running it in approximately 33 minutes. The chip time isn't posted yet and considering it was more of a "fun run" I didn't bring the Garmin along. Debbie did the 3K with her friends (and colleagues Kristine and Loi, with their Golden Retriever, Roxy).
It was a whole event down at the park. They had dock diving...as well as frisbee and lure courses, exhibitions, and tons and tons of dogs!
Plus the
Pug Hearts of Houston
. Support the pugs! They were telling me how their organization has saved over 400 pugs. The little black one had a cast on it's leg after getting hit by a car. They do a lot of good things for pugs... The lady was like "well she (Roma) has a curly tail, probably part pug." I definitely gravitated to their booth. I love pugs...just such cute little dogs!
But we are finally figuring out Roma's mix...Lab, of course...and Basenji. We saw two dogs that looked very similar to Roma. So we went up to the owner and he told us they were Basenji's. Check out this photo from online...definitely more convincing.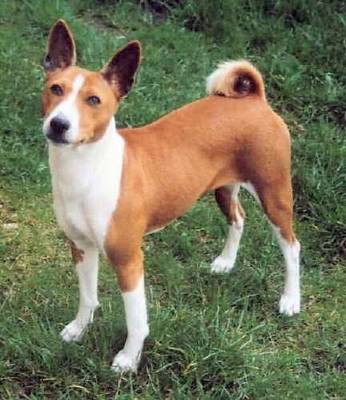 All in all, it was a great Saturday in the park with Deb and Roma, some friends, and a load of dog lovers!